Aaaah, Monday: we meet again. Thankfully, this unfortunate fact is made much easier to bear thanks to Marvelous in My Monday — many thanks to Katie at Healthy Diva Eats for hosting!
We had a pretty low-key weekend: I wasn't feeling well, so I stayed home and read while Brandon went to a retirement party for one of his mentors from work. And oh, read I did: I read The Bungalow by Sarah Jio in one sitting. (Stay tuned tomorrow for a more detailed review of its awesomeness!)
Yesterday after getting some errands done, Brandon and I wanted to catch a movie, so we decided to see what all the fuss with Silver Linings Playbook was all about — and let me tell you, the buzz is totally legit. It's an awesome movie, and I laughed like crazy at the scene where Bradley Cooper loses it over the Hemingway book.
I feel ya, Bradley. Hemingway pissed me off to no end when I had to read his various works for in high school. I distinctly remember reading Old Man and the Sea and thinking, "For the love of God, dude, it's a f***ing fish. LET IT GO! THIS IS POINTLESS AND A WASTE OF YOUR FICTIONAL TIME! THEREFORE IT'S A WASTE OF MY REAL TIME! LET THE DAMN FISH GO!"
By the time I was done reading the book, I had pretty much the same reaction as Bradley Cooper's character — I mean, minus throwing it out the window and waking up my parents in the middle of the night. But I did swear a lot, throw the book down on the floor in disgust, and go vent to my parents about how much I hated Hemingway. (Happily, my Mom — she was an English major — could totally relate to my sentiments on ol' Ernest.)
Even without that scene, though, Silver Linings Playbook was fantastic, and it was the perfect way to end the weekend.
This morning, to my surprise, has gone quite well so far: despite my early morning wake-up, I had a great time writing my Oscars Redux post while having the grown-up equivalent of a power hour with some delicious java.
Then, when I got to work I found out that I got a small raise. *Does happy dance* It's not massive and it was expected, but still — woohoo! A pay bump is a pay bump, and I'll gladly take it.
Knowing this, I decided to use the gift certificates I've been hoarding and finally buy a pair of super cute ballet flats that I've been coveting for the last month. As one of my friends said when I posted on Facebook about my dilemma of whether or not to go for it and pony up the $35 to buy these, "My mom calls this a YOITY present: You Owe It To Yourself. It's good to treat yourself now and then." I totally agree with this idea. So, behold my YOITY purchase: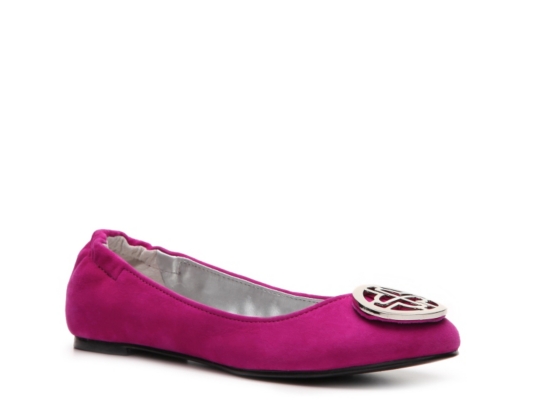 Hope everyone's day is going well, despite the general heinousness of Mondays. If you find that you have a case of the Mondays…wear some flair?