In the lead-up to my birthday last week, I found myself thinking about what I want to achieve this year. This wasn't like making new year's resolutions, since I loathe those with the fire of a thousand suns, and for various reasons: my illustrious history of sacrificing my well-being in pursuit of a goal (please refer to exhibit A: high school and the college admissions process), the fact that most resolutions are things you could choose to do at any point in the year, the fact that the whole idea of new year's resolutions is a weird, fabricated, and artificially-imposed social construct that people seem to do because they feel obligated to participate…well. Suffice it to say, new year's resolutions — to quote Austin Powers — aren't my bag, baby.
Given that my stance on new year's resolutions falls somewhere between "how I feel about migraines" and "how I feel about Nazis," it's probably surprising that I was thinking about what I want to achieve during the next year — but, as it turns out, I do really like finding an over-arching goal or purpose for my next trip around the sun.
The more I thought about it, the more the answer became clear as that still, small voice in my head repeated: tikkun olam. To explain what this is, here's what I posted to Facebook that day:
A Jewish philosophy translated as "repairing the world," tikkun olam is a long-standing love of mine. Human history is littered with astonishing levels of cruelty and destruction, and although I believe we're moving in the right direction, we have a long way to go.

So, my hope is this: that we can all work towards building empathy instead of judgment, compassion instead of intolerance, creativity and repair instead of destruction, and patience instead of anger. Let's give more hugs. Let's do more charitable work, whether through donations or volunteering. Let's make each other laugh. Let's cut each other some slack, because everyone, whether you know it or not, is fighting a hard battle.

Let's contribute to repairing the world, in whatever way we can — because each contribution, each random act of kindness, and each moment of empathy is important.
As it turns out, my efforts  to do this are a bit more awkward than I'd hoped. (I'll pause here and express my amusement about the fact that I'm continually surprised by my own awkwardness. This should've stopped being surprising to me a looooooooong time ago, but somehow it always pops up and leaves me going "Wait, WHAT? Awkward? Me? Well…yeah. That's actually quite plausible. Ok, it's highly likely. Upon further inspection, it's basically inevitable.")
On my birthday, I'd planned to use the free birthday drink loaded onto my Starbucks card to purchase a drink for a random stranger. But, as it turns out, the random stranger has to be there, in the flesh, and ordering their drink in order for you to use the free drink on someone else. This has potential to be spectacularly awkward and tremendously creepy. There was a dude behind me in line, and when I looked over in his direction to see if I could get away with doing this in a non-awkward, non-creepy way, the look of apprehension on his face quickly answered that question for me.
So I bought myself a marshmallow dream bar. (For those who may be wondering, they're both gluten-free and delicious. It didn't do anything to help repair the world, but it did make my taste buds happy.)
Then a few days ago, I was getting a cup of tea from a coffee vendor near my office. The two women in line behind me were having a long conversation; one had apparently just broken up with her live-in boyfriend, and she was understandably upset. Just as I was paying for my chai, the newly-single woman broke down into tears.
Y'all. I think most of us have been through wretched break-ups. I think most of us can agree that they're abjectly miserable, and that having an acutely broken heart makes you feel like you may never breathe normally — let alone laugh — ever again.
Before I could think about whether or not this, like my Starbucks attempt, would make me look slightly insane, I turned around and offered to buy her a coffee. "I've been through bad breakups too," I said, "and I know how much it sucks. Please let me buy you a coffee." I told her that it's awful now, but that it gets better — and then I felt like I was probably being weird, so I decided it was time to walk away.
As I walked back to my office, I started to reflect on the situation. At first, I worried that I might have come across as a hideously weird old lady. But then I realized: who cares if I did? I'd rather do something nice and look like an idiot than not do something nice at all. Random acts of kindness towards strangers are precisely that: interactions with people I'm probably never going to see again. If they think I'm weird for doing something nice, then so be it.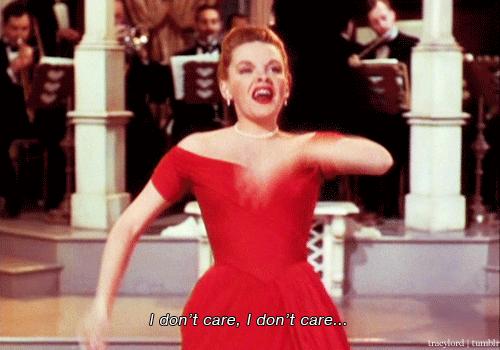 That also led me to wonder: what is it about modern culture that makes niceness so suspect? Why am I even in a position of feeling like people might think I'm creepy or mildly insane for offering to do something nice? It's not like I'm standing there, wild-eyed and desperate for human interaction, while I offer to tell them about my latest surgery and 27 cats. If that were the case, apprehension would be totally understandable. But it's not (to the best of my knowledge, at least) — and yet, I got really self-conscious about it.
So, I've decided not to worry about whether I look like a complete fool in my tikkun olam efforts, because the fact is, this is something that needs to be done.
So, tell me: have you ever been in a similar situation? Do you feel like strangers doing random nice things for others are greeted with suspicion or gratitude? Or is this just a DC thing?